Glitz and glamour run in Bollywood's blood. And the drama is not just restricted to the movies. Ever witnessed a
filmi
party or premiere? You'll know what I am talking about.

Like a play on stage, the players know their part. Those who watch also know exactly what to expect.
Even though a sense of regularity and predictability sets into such gatherings, both parties participate with renewed enthusiasm.
The music release function of Feroz Khan's big budgeted Janasheen at J W Marriott's Enigma in Mumbai was one such case.
After the abysmal failure of his last film Prem Aggan, that launched son Fardeen into films, Feroz Khan leaves no stone unturned for his next presentation Janasheen. The film features the father-son duo of Feroz and Fardeen for the first time. Former Miss India-Universe Celina Jaitley and Denmark-based Pinky Harwani play the leading ladies.
The music launch kick started with teaser songs composed by Anand Raaj Anand, Biddu, Channi Singh-Mrinal Sampat and Sukhwinder Singh. One of Janasheen's USP is the picturisation of the Super Bike Racing in Australia's Philip Island -- a first for Hindi films. As an aside, Melbourne's Philip Island is also famous for penguins that come out on the Island beaches.
The special screening of the songs and bike sequence received a heartening applause. This was followed by a press conference.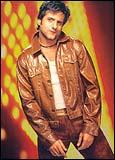 Before we get into the conference, here's a quick look at what the stars wore:
Fardeen Khan: A black blazer over a printed cream shirt and dark blue faded jeans.
Feroz Khan: An all black suit with a silk scarf muffled around his neck.
Celina Jaitley: A spaghetti-strapped golden gown with sequins and satin lining. Showing a lot of cleavage.
Pinky Harwani: A white chiffon churidar with silver thread work and sequins.
The press conference was a standard quid pro quo. Celina, however, seems to be a hot favourite with cameramen who hovered around the photogenic beauty like bees.
Like most FK heroines, Celina too displays ample skin in her debut film. 'I did only what the script demanded me to do,' she said.
Chief guests Amitabh Bachchan and Maharashtra Deputy Chief Minister Chhagan Bhujbal released the music. 
'I have seen Fardeen grow up as a child. I still have some embarrassing pictures of him [as a kid],' joked Big B.
A reserved Fardeen shied away from the media and attended to the guests, which included a lot of khaki-clad officers thanks to Bhujbal's presence.
Speaking of Bhujbal, FK raised a few eyebrows when he commented, 'It takes balls to be in politics. He [Bhujbal] has got that.'
But FK being FK, with all his charm and style, managed to get away with it.
The function was a well-attended one. FK's brothers Sanjay and Akbar were among the first to arrive.
Sanjay Khan's son Zayed, who made his debut in the forgettable Chura Hai Liyaa Hai Tumne, looked dashing in a short haircut, streaked in blonde, and designer glasses. His Chura Liyaa costar Esha Deol was there too. In a maroon cocktail dress, Esha did not look like someone with five flops to her credit.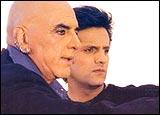 Her supposed best friend Kareena Kapoor made a brief appearance as well. Dressed in a full-sleeved burgundy top and black trousers, Kareena disappointed a lot of kids outside the hotel lobby by refusing them autographs.
Anil Kapoor, too, made an early exit.
Among other notables present were T-Series' Kishan Kumar escorting his pregnant wife Tania, Moon Moon Sen and daughter Raima, Chunky Pandey, film director Hansal Mehta and Archana Puran Singh.
Stars, paparazzi, music, food, drinks, drama,
Janasheen
's music release party had it all.